Community Health Worker
Support Services
CHW agency to provide CHW services

CHW training and certification

CHW instructor training and continuing CHW education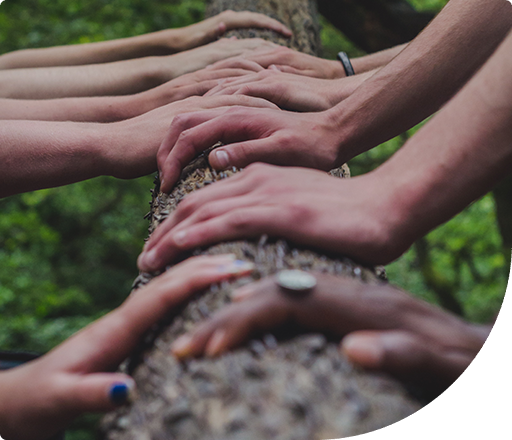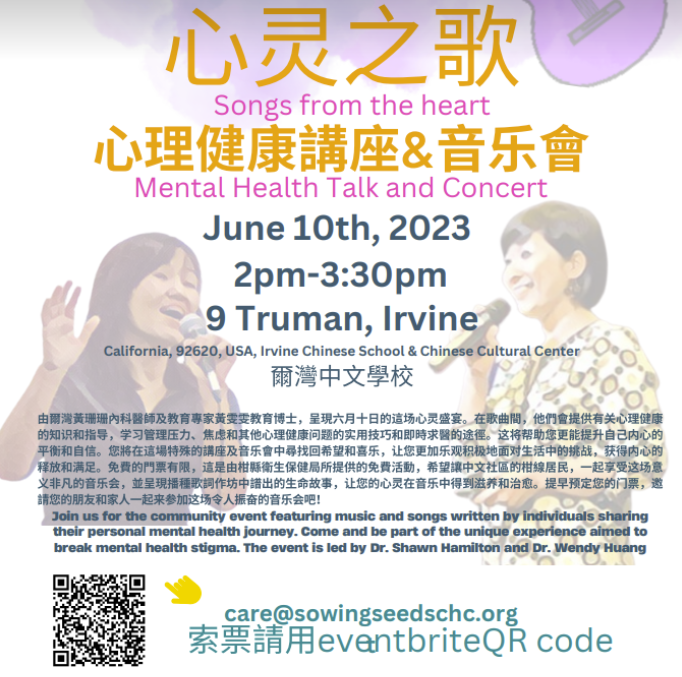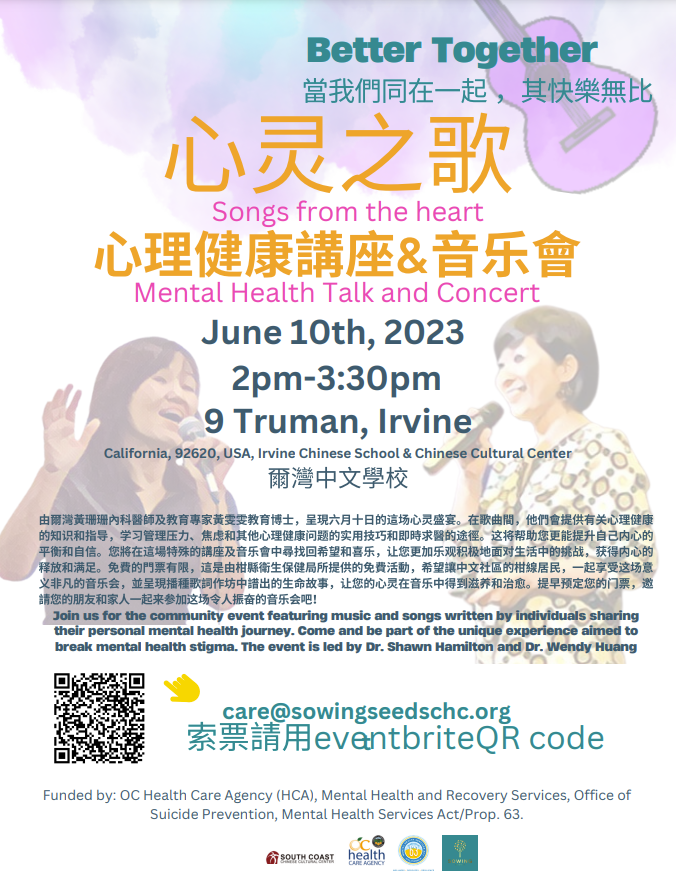 由爾灣黃珊珊內科醫師及教育專家黃雯雯教育博士,呈現六月十日的這场心灵盛宴。在歌曲間,他們會提供有关心理健康的知识和指导,学习管理压力、焦虑和其他心理健康问题的实用技巧和即時求醫的途徑。这将帮助您更能提升自己内心的平衡和自信。您將在這場特殊的講座及音乐會中尋找回希望和喜乐,让您更加乐观积极地面对生活中的挑战,获得内心的释放和满足。免費的門票有限,這是由柑縣衛生保健局所提供的免費活動,希望讓中文社區的柑線居民,一起享受这场意义非凡的音乐会,並呈現播種歌詞作坊中譜出的生命故事,让您的心灵在音乐中得到滋养和治愈。提早预定您的门票,邀請您的朋友和家人一起来参加这场令人振奋的音乐会吧!
Lead by Dr. Shawn Hamilton and Dr. Wendy Huang, they will share songs and mental health self care, help you know when to seek help, and reduce stigma. Come and share this unique experience!
A Nonprofit Organization
to Better the Community
501c3 nonprofit organization
To be recognized as a quality CHW agency and CHW education provider for the medically underserved and vulnerable population.
 To provide individuals with lived experience and the competency to help themselves and others.
Dr. Hamilton and a group of Christian friends established Sowing Seeds Music Ministry which goes to hospitals, nursing homes, medical schools, and nursing schools in Taiwan to spread the healing love of Christ through music. After the 2019 mission trip, all events were canceled; Dr. Hamilton as a primary care physician and a regional medical director at Health Net of California, Dr. Hamilton found an increasing need for CHW with lived experienced and cultural diversity to improve the whole health of a person. Sowing Seeds Music, Inc. established its community health center, Sowing Seeds Community Health Center DBA in 2021. Collaborating with Mr. Rodney Black who has decades of CHW training experience and Chi Qian Chen who is passionate about CHW education, they developed a 20-week program that provided CHW education through online platforms. Sowing Seeds Community Health Center will provide virtual and hands-on training to certify community health workers.